Skip to product information
Product Features
✔ Provides High Strength 2000mg Sea Moss Extract Per Serving
✔ Vitamin C and Antioxidants found in Sea Moss can help boost the immune system and support its proper functioning
✔ 2 Month Supply - 120 Tablets
✔ Sea moss is often used in skincare products due to its potential benefits for the skin
✔ Sea Moss's natural source of iodine can support thyroid health and help regulate metabolism
✔ Vegan, Gluten free, and does not contain any artificial colours or flavours
Our Sea Moss Extract tablets offer a 2000 MG dosage per serving and provide a 2-month supply with 120 tablets. Packed with nutrients and minerals, they support digestive health, boost the immune system, promote healthy skin, aid thyroid function, and support joint and bone health. Experience the benefits of this natural supplement for overall well-being and vitality
View full details
Money Back Guarantee


Available on this product.
Product Features
✔ Provides High Strength 2000mg Sea Moss Extract Per Serving
✔ Vitamin C and Antioxidants found in Sea Moss can help boost the immune system and support its proper functioning
✔ 2 Month Supply - 120 Tablets
✔ Sea moss is often used in skincare products due to its potential benefits for the skin
✔ Sea Moss's natural source of iodine can support thyroid health and help regulate metabolism
✔ Vegan, Gluten free, and does not contain any artificial colours or flavours
Our Sea Moss Extract tablets offer a 2000 MG dosage per serving and provide a 2-month supply with 120 tablets. Packed with nutrients and minerals, they support digestive health, boost the immune system, promote healthy skin, aid thyroid function, and support joint and bone health. Experience the benefits of this natural supplement for overall well-being and vitality
Information
Key Benefits
Some of the many benefits of Sea Moss Tablets: Nutrient-rich: Sea moss is packed with essential vitamins, minerals, and antioxidants that support overall health and well-being. It can help supplement nutrient deficiencies and promote optimal nutrition. Digestive health: Sea moss contains soluble fiber, which can support healthy digestion and promote regular bowel movements. It may also help soothe the digestive system and provide relief from digestive issues. Immune support: The vitamins and minerals in sea moss tablets, such as vitamin C and antioxidants, can help boost the immune system and support its proper functioning.
Ingredients
Bulking Agent (Microcrystalline Cellulose), Sea Moss 15:1 Extract, Anti-Caking Agent
Supply
2 Months Supply - 120 Tablets
How to Use
Directions for use for Sea Moss Tablets:
High Strength 2000 MG - Take two Sea Moss Tablets per day
Follow the recommended dosage on the label.
Store the Menopause Supplements in a cool, dry place away from sunlight, heat, and moisture.
Check the expiration date before using.
Consult with a healthcare provider before starting any new supplements.
Nutritional Information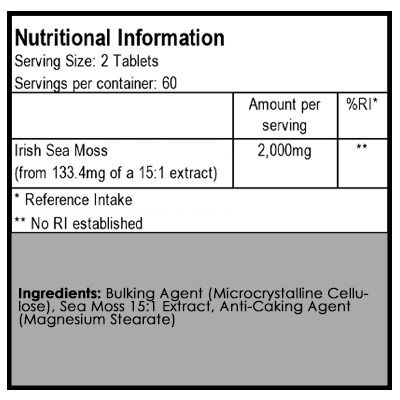 Safety Information:
This product is not suitable for pregnant or breastfeeding woman. If you are on medication or under any medical supervision it is advisable to consult a GP prior to taking food supplements. This product does not treat, prevent or cure any menopausal symptoms. Discontinue use and consult a GP if adverse reactions occur. Not suitable for persons under the age of 18. Keep out of reach of children at all times. Do not use if the seal is broken or damaged.
Description
WHAT IS SEA MOSS?
Seamoss is a spiny sea vegetable that's primarily harvested for use in health supplements, It's an edible sea plant similar to other seaweeds, algae, and other familiar leafy sea vegetables like kelp or dulse.
USES
Today Sea Moss is mainly used as a source of vitamins and minerals to benefit overall health.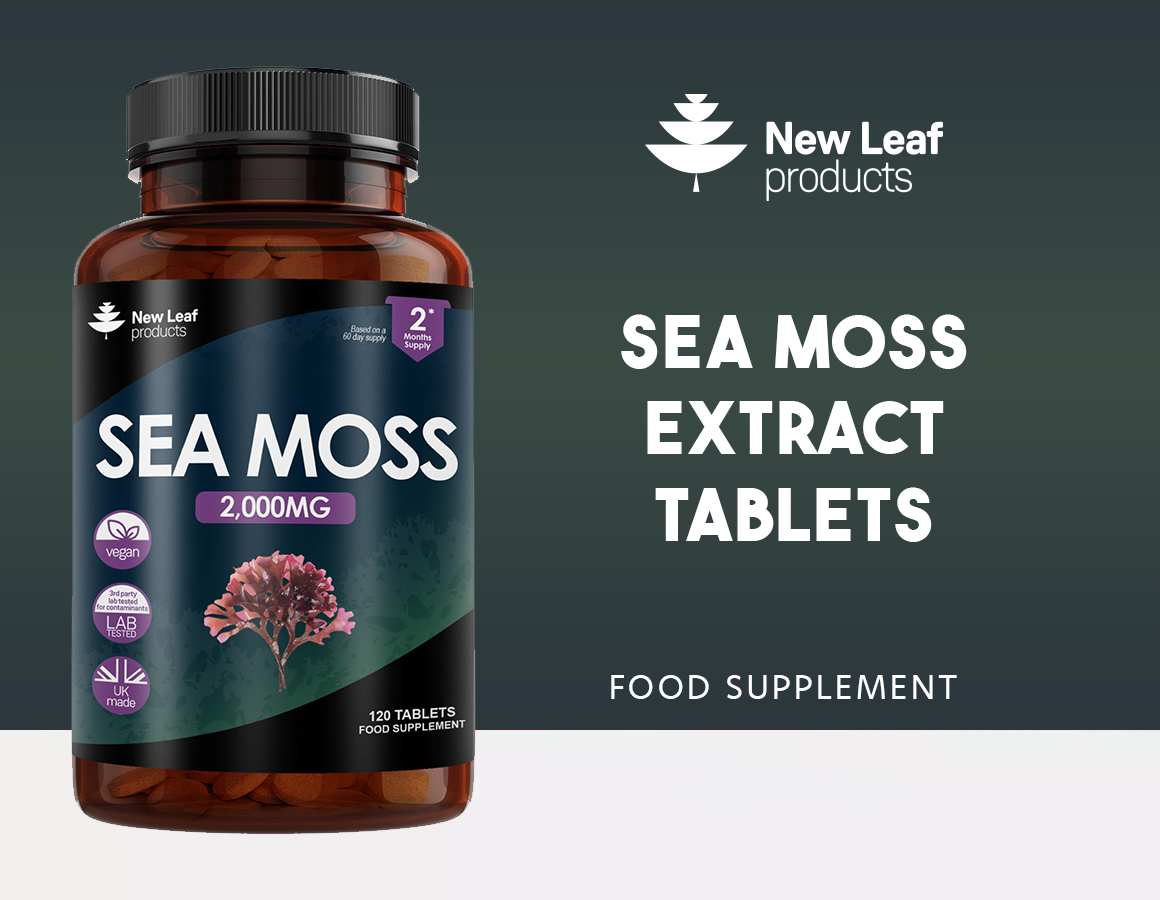 SEA MOSS TABLETS EXTRACT
Each serving of our sea moss tablets provides 2000mg from 133.4mg of a 15:1 extract, there are two easy to swallow tablets per serving, and 120 tablets per bottle which will last up to two months.
UK MADE
Proudly manufactured in the UK to the highest standards, our sea moss is Vegan, Gluten free, and does not contain any artificial colours or flavours.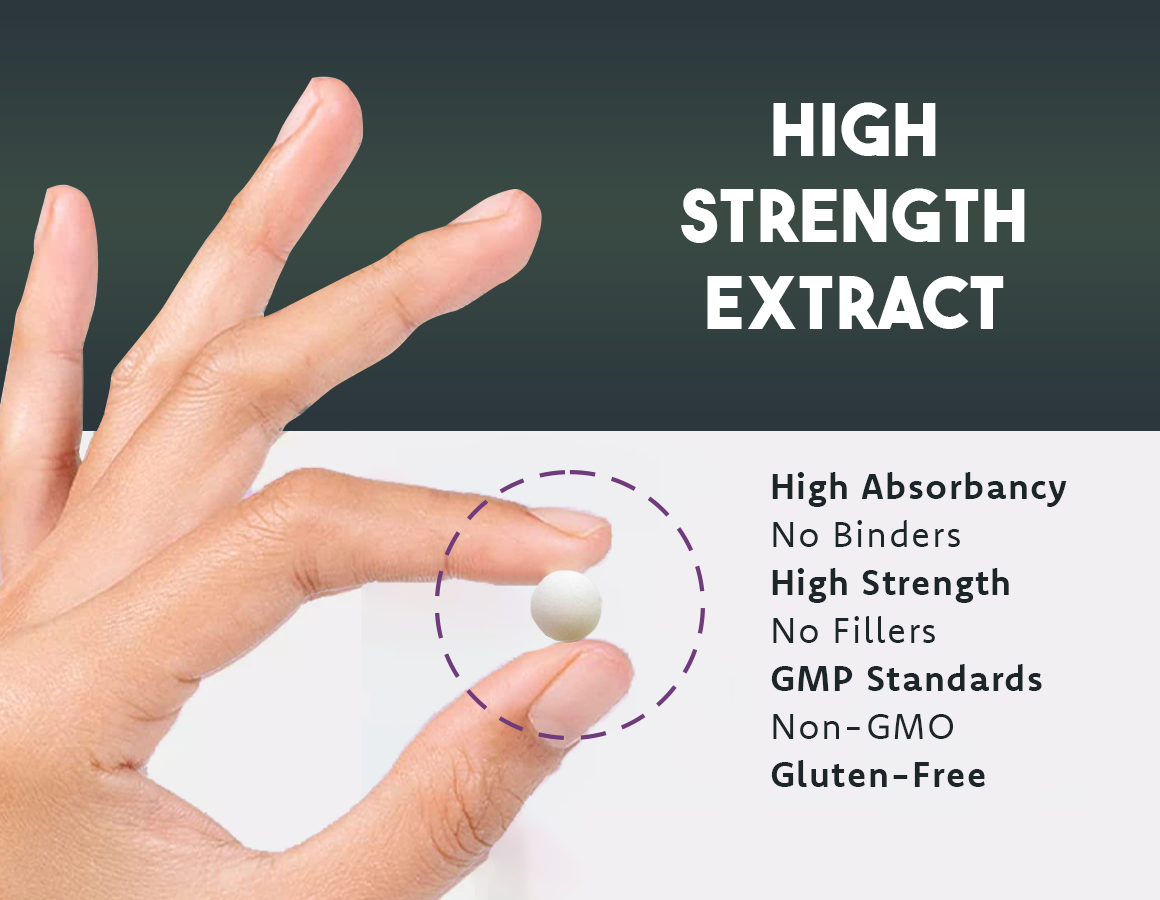 ---
WHY US?
New Leaf Products is a recognised and trusted Vitamin & Supplement brand providing thousands of customers globally with high quality nutritional supplements .Our premium quality products are manufactured and formulated in the UK under the strictest standards and are then independently lab tested for heavy metals and unwanted compounds to you are getting the highest quality product you deserve.